Chrome 117 introduces a new design language, Material You, allowing users to customize color themes for a personalized browsing experience.
The Chrome Web Store gets a major update for easier extension and theme discovery, resembling the Google Play Store's design.
Google expands its Privacy Sandbox to enhance user privacy by sharing less data with advertisers.
The HTTPS lock icon is replaced with a settings icon to improve user understanding of website trustworthiness.
Looking to Download the Google Chrome offline installer for offline installation? Here in this post, we have updated Google Chrome 117.0.5938.63 offline installer 64-bit and 32-bit links. Recently on 06 Sep 2023, the stable version of Chrome version 117 was released for everyone including iOS, Android, Chrome OS, Linux, Mac, and Windows.
In order to celebrate the 15th anniversary of the Chrome browser, Google launched the latest version of Chrome 117, bringing a redesigned interface, a scan for unwanted extensions, and changes to download warning prompts.
Google Chrome download for Windows 11
If you are already running the Chrome browser, the latest version 117.0.5938.63 downloads and installs it automatically. Also, you can manually update the Chrome browser from settings -> about Chrome.
Or you can type chrome://settings/help on the address and press the enter key to update Chrome 117.
Google Chrome 117.0.5938.63 Features
The latest release focuses on improving the stability and performance offered during browsing sessions but also corrects a series of problems related to the security of devices and data. It also addresses 159 bugs discovered in the browser.
Material You design
In Chrome version 117, Google has embraced their latest design language, Material You. This update brings a more aesthetically pleasing and user-friendly experience to the browser. Users now have the option to select different color themes to customize the top bar and menu according to their personal preferences. This not only enhances the visual appeal but also adds a touch of personalization to the browsing experience.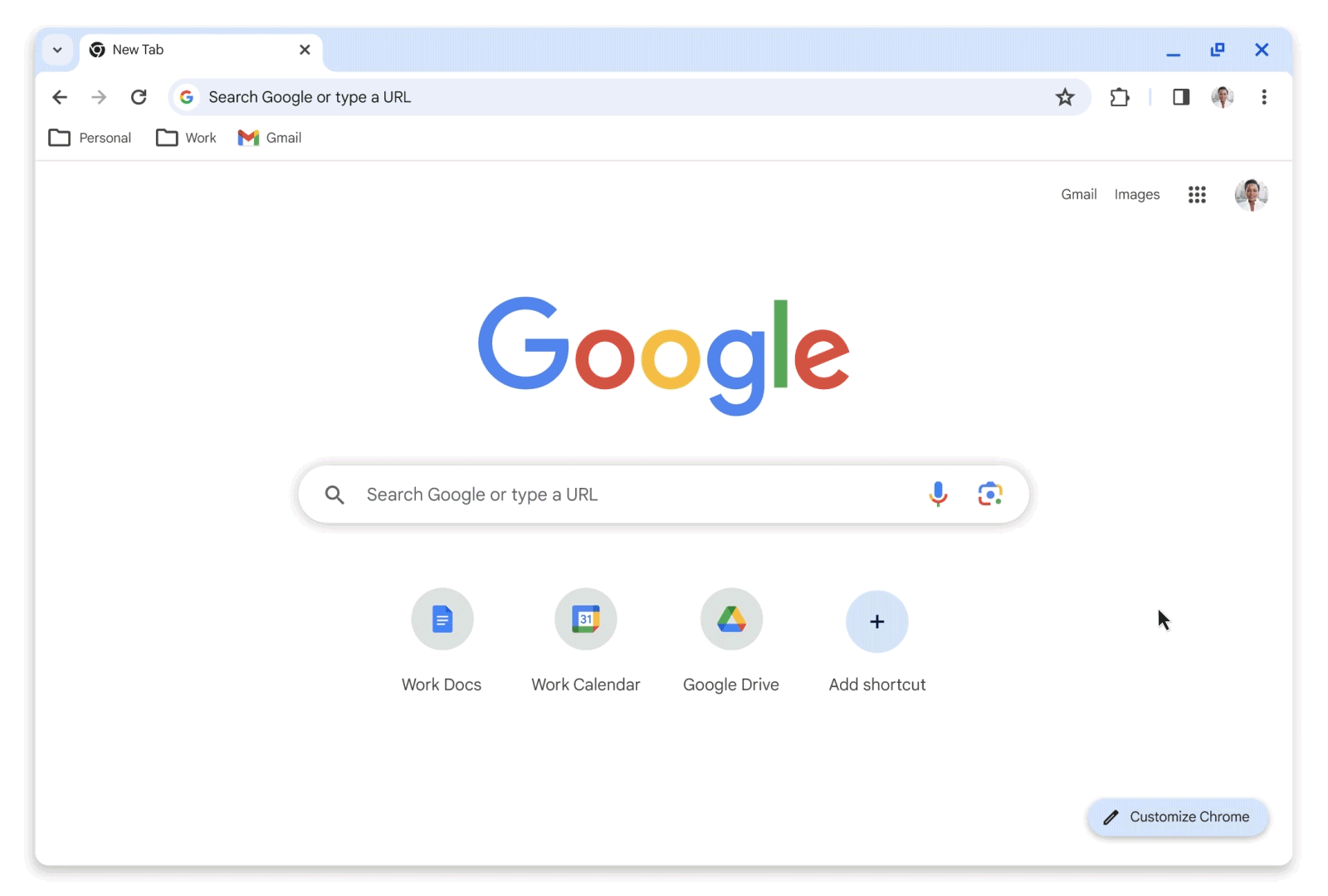 Updated Chrome Web Store
The latest chrome 117 release, brings a substantial overhaul to the Chrome Web Store, streamlining the process of discovering and installing extensions and themes. The revamped online app store now bears a closer resemblance to the web version of the Google Play Store, aligning with the Material You design language. This redesign aims to offer users a more intuitive and seamless experience when it comes to customizing and enhancing their browsing environment.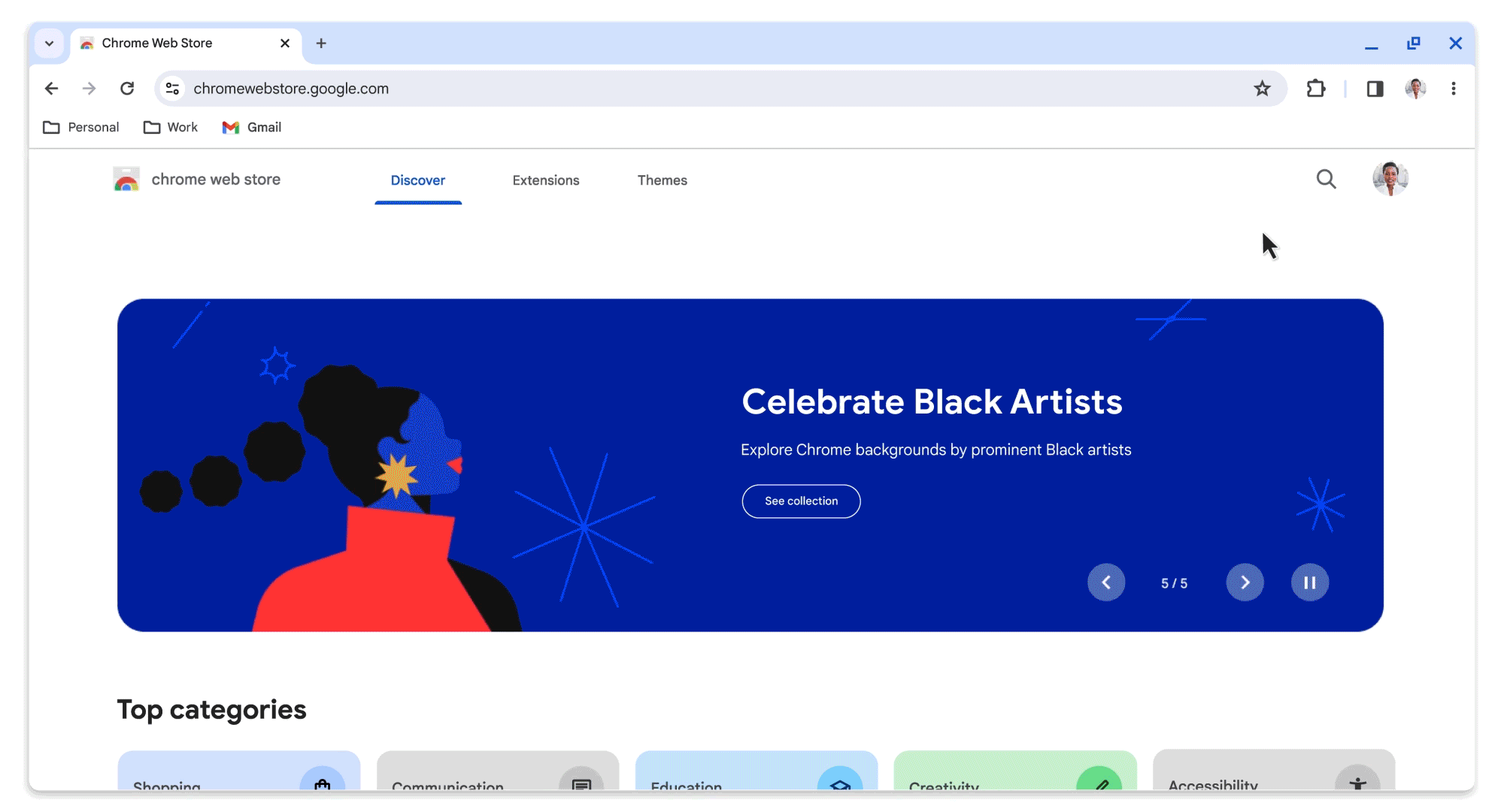 Privacy Sandbox Promotion
Google introduced the Privacy Sandbox as a solution to replace third-party cookies. This innovative concept involves tracking user behavior on local devices and only sharing essential information with advertisers. With Chrome 117, Google is extending the reach of the Privacy Sandbox to include more users and advertisers. This expansion offers enhanced protection and control over privacy, ensuring a more secure and personalized online experience for everyone involved.
Search this page with Google
Chrome is constantly evolving to make searching more convenient. In recent updates, Chrome has introduced features that offer quicker access to information and search tools while browsing. When you're on a webpage, you can now select the "Search this page with Google" option from the three-dot menu. This action opens the Google Search side panel, where you can access related searches, gather more information about a page's source, or initiate another search right from there. Additionally, you even have the option to pin the Google Search side panel to your toolbar, providing easy access to these search capabilities at all times.
URL bar HTTPS lock icon disappears
Google has taken a new approach regarding the HTTPS lock icon. They believe that it may give users a false impression of a website's trustworthiness, as it primarily signifies a secure connection rather than overall trust or authentication. Therefore, Chrome 117 introduces a settings icon in place of the HTTPS lock icon. This change is aimed at providing users with a clearer pathway to adjust a website's cookie and permission settings, offering a more accurate representation of their interactions with the site.
Tag group synchronization enhancement
Chrome 117 brings a new feature that enables users to save and synchronize tab groups across devices. This means users can now not only organize their browsing pages efficiently but also retain and restore their previous browsing status at any given time. This enhancement is a significant step towards providing a seamless and consistent browsing experience for users across different devices.
In Chrome version 117, there's a feature that enables users to temporarily enable third-party cookies for websites that depend on them for essential functions. After enabling this option, Chrome will automatically disable third-party cookies for that website after a 90-day period. This helps balance privacy concerns with the functionality required by certain websites that haven't transitioned away from third-party cookies yet.
Chrome 117 Security Fixes
Google Chrome 117 also addresses 16 security vulnerabilities out of one security issues are rated as critial and the remaining publicly disclosed security issues have ratings of medium or low.
A detailed blog post on what's new in Chrome 117 developer tools is available here.
Chrome version 117 free download (offline installer)
Important to know! The offline installer links do not include the automatic update feature.
Download web installer: Google Chrome Web 32-bit | Google Chrome 64-bit | Freeware.
Download: Google Chrome MSI Installers for Windows (automatic update)
Download: Google Chrome for macOS
Download: Google Chrome Offline Installer for Linux
Download: Google Chrome for Android
Download: Google Chrome for iOS
Note: Chrome 118 is scheduled for release on 04 October 2023, we update the chrome 118 offline installer link once it gets live.
Also read: